Make Your First Step, The Right Step
Click here to set up a time to meet with Fazendin's Broker, Andy Fazendin
How do you get a Real Estate License in Minnesota?
To become a licensed real estate professional in Minnesota, you need to successfully complete 90 hours of licensing education – three 30-hour courses. You will need to complete all course materials, meet the time requirement, and earn a passing score on the real estate license exam. A passing score is a minimum of 75% on each section.
Finally, you will need to choose and partner with an active Minnesota broker. Once sponsored by a brokerage, you will submit your license application to the Minnesota Department of Commerce. As a Fazendin Agent, our Office Manager or Broker will help you complete and submit your license. 
Questions about getting licensed?
Fill out this form and be sure to ask about our New Agent Scholarship!
Why is Fazendin Realtors the brokerage for you as a New Agent?
Our business model is built on attracting, developing, and retaining real estate agents who are committed to providing the quality service, knowledge, and results our brokerage is known for.  The success of our brokerage is contingent on your success as an agent. We will help you begin your career in real estate, and we'll keep helping you to make your business thrive. We're not in the game of signing as many agents as possible and letting them fend for themselves. We are 40 agents strong – each one an active participant in the local Twin Cities market and a true member of our brokerage's family.
As a new agent, you need in-person, hands-on training and support.
Fazendin's Director of Agent Development, Todd Urbanski, is focused on just that – agent development. As a new agent, you will be enrolled in our in-person training program outlined below. The goal is to have you feel confident in all aspects of residential real estate upon completion. 
Throughout your training and career, you will have the support of fellow Fazendin real estate agents in addition to the ability to ask your trainers, support team, fellow newbies, and titans in the industry questions about the market, best business practices, and more. 
Your New Agent Training Journey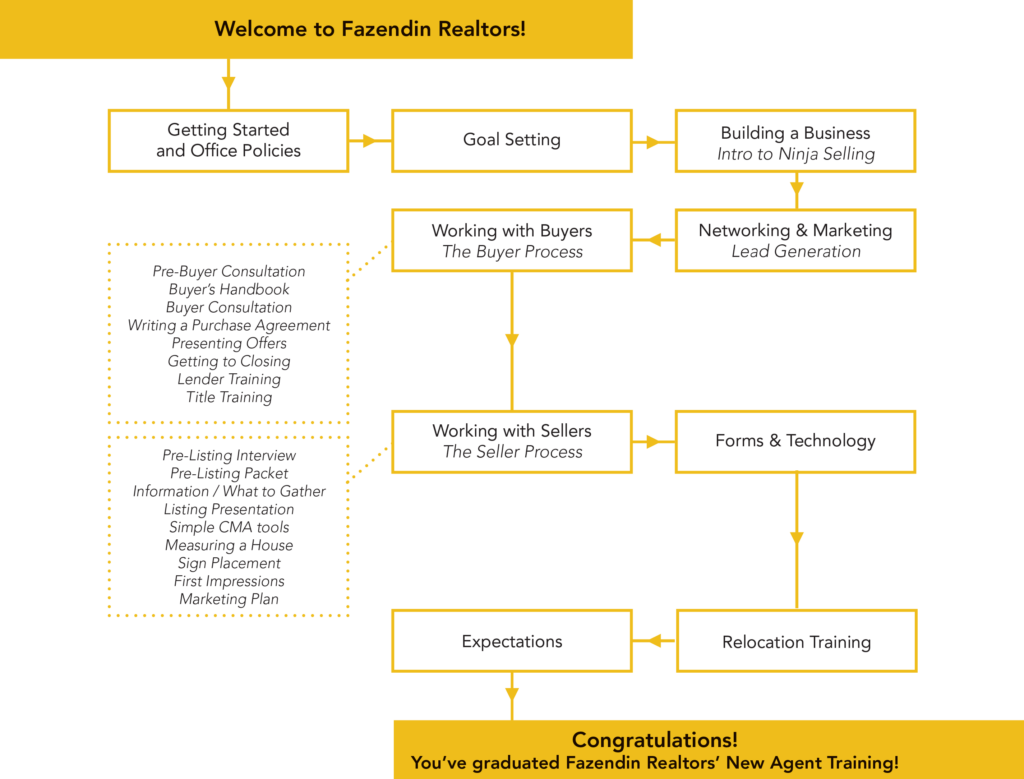 Fazendin Realtors offers the following:
New Agent Scholarship


*Already have your license? Fill out the form here

 

and ask about our reimbursement program!

Extensive In-Person, Hands-on, Small Group Training.

Agent Mentorship Program

A Guide on How to Build, Sustain, and Grow Your Business

An Office Culture filled with Real Estate Professionals who share best practices and answer questions

Personalized, Professional Marketing Materials specifically aimed at elevating your personal brand across the print, digital, and social channels best suited for your audience

Access to a Contact Relationship Management (CRM) database with artificial intelligence that easily enables you to track and organize all of your client communications, files, and notes

Time: Fazendin's well-versed support team of professionals takes tasks off your plate, giving you the time you need to build and strengthen client relationships and do what you love most about your career

Quality Leads from Fazendin Realtor's Relocation and Corporate Services

A Listing Services Manager

A Personal Brand Manager

A Business Partner/Broker who is regularly available to answer questions and support you throughout your career

Affiliation with Leading Real Estate Companies of the World, the largest network of premier locally branded real estate companies

Affiliation with Luxury Portfolio International, the luxury marketing division of Leading Real Estate Companies of the World

and so much more!
Interested in learning more about beginning a career in real estate?
Fill out the form here to take the first step!
 
Commonly Asked Questions
When will I have my first transaction?

The goal of our trainers is to shorten this time period. Most new agents will have their first transaction in the first three months.

Can I work another job during training / the start of my career?

Yes, as long as it does not conflict with your ability to represent clients.

How much will I make in my first 12 months as a real estate agent?

This is hard to answer because we have seen a wide range over the years. We have seen new agent income range from $10,000 to $90,000 in their first year.

Does Fazendin Realtors have a minimum sales requirement to stay with the brokerage?

Our expectation is that a new agent will have a minimum of 5 transactions in their first year as an agent. We are confident this is attainable if the new agent follows our training and is consistently engaged in real estate activities.

What is Ninja Selling?

In a nutshell, Ninja Selling is a multidisciplinary system for real estate. The system is comprised of three components: Mindset, Skillset, and Actions. For more information, reach out to Fazendin's Director of Agent Development and resident Ninja Selling Trainer – Todd Urbanski.

How long does new agent training take?

The training period is typically 6 weeks but can go faster depending on the pace of the trainees overall.

What does the training schedule look like for a new agent?

Because of the small group style (typically 1 to 4 agents per class), we create a customized training schedule to accommodate the trainee's schedule. Our goal is to get through training as quickly as possible while learning all the fundamental aspects of residential real estate.

What if a real estate transaction opportunity arises while I'm in training?

Great! We encourage trainees to take part in real estate transactions if the opportunity presents itself, even if still in training.
Have more questions?
Fill out the Send Us a Message form below to request a time to meet with Fazendin's Broker/Owner, Andy Fazendin!